AQUA PROGRAM is a joint project between F.D.C. Products Inc. jewelry brand 4℃ and the Japan Water Forum. Its aim is to empower people in developing countries and bring them beauty and inspiration by resolving the serious water problems they face.
Since the program's establishment in 2008, several projects have been carried out in the Republic of Kiribati, Sri Lanka and Bangladesh. Since 2017, we have been working in a rural community in Bangladesh.
In the 2022 project, AMAMIZU rainwater harvesting tanks were installed in 40 households and training in operations and maintenance skills was carried out.
AQUA PROGRAM contributes to the SDGs.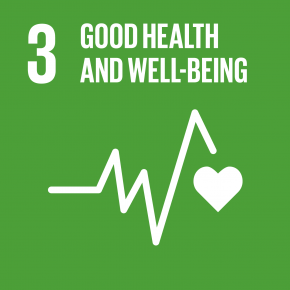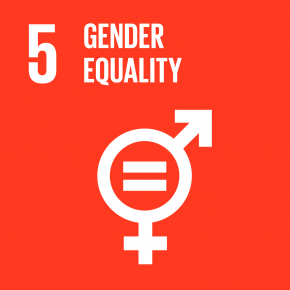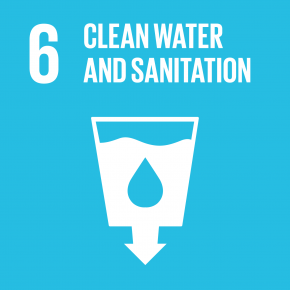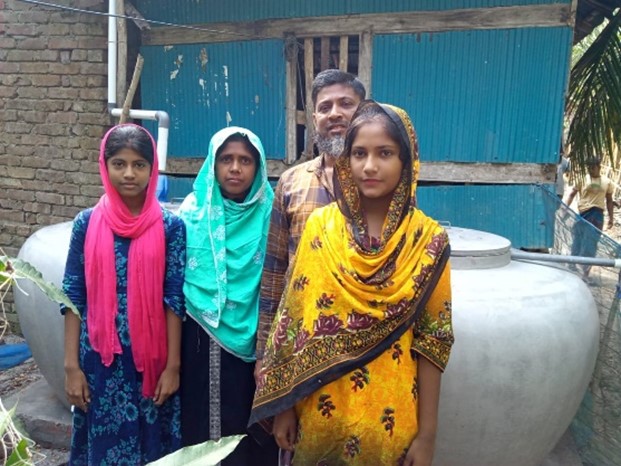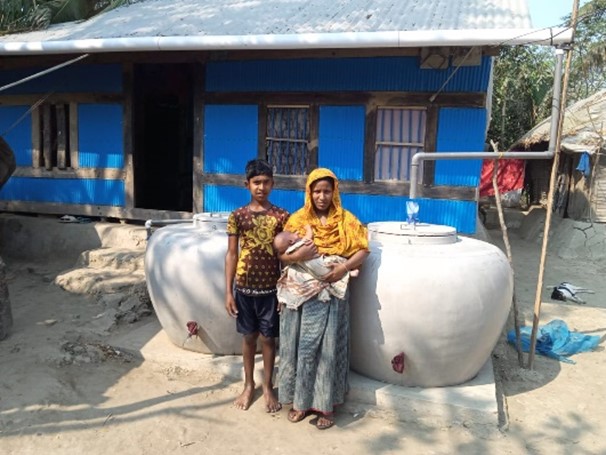 Details of AQUA PROGRAM 2022
1)Project title
AQUA PROGRAM 2022
2)Project site
Khulna Division, Bangladesh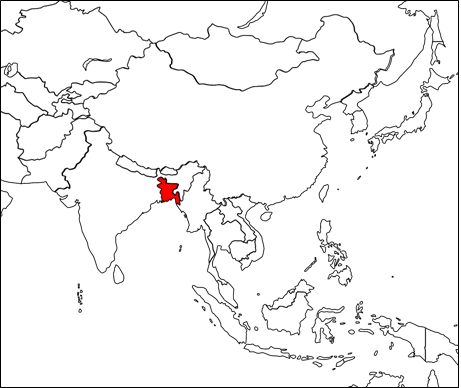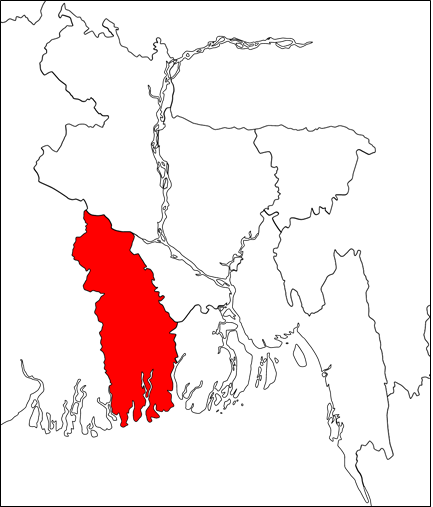 3)Beneficiaries
40 households, 175 people
4)Project period
October 2022 to June 2023
5)Local partner
Skywater Bangladesh Ltd.
6)Background
The project site is a typical underprivileged and marginalized village. The residents are dependent on unsafe wells and ponds, otherwise must purchase water for domestic use as well as drinking. Fetching water is a daily burden especially for women, and the cost of buying water puts stress on household budgets. Despite insufficient income, households have no choice but to purchase water to meet their needs during the dry season. They must also spend money on medical supplies and treatments for water-borne diseases such as diarrhea.
7)Main activities
・Baseline survey / Preparation of social map
・Installation of AMAMIZU rainwater-harvesting tanks (two tanks in each location), and pipes for 40 households
・Operation and maintenance training for beneficiaries
・Experience-sharing workshop involving former project beneficiaries
・Follow-up visit to each household
・Water quality testing
During project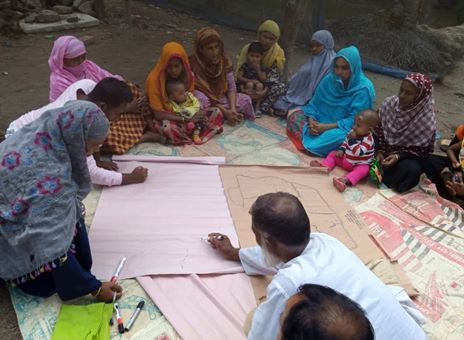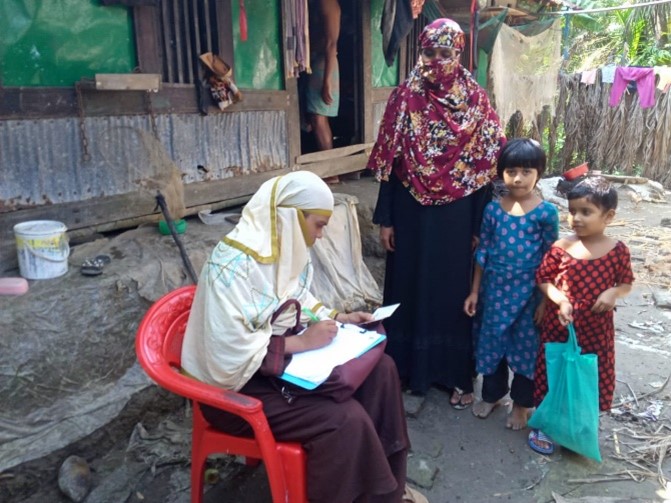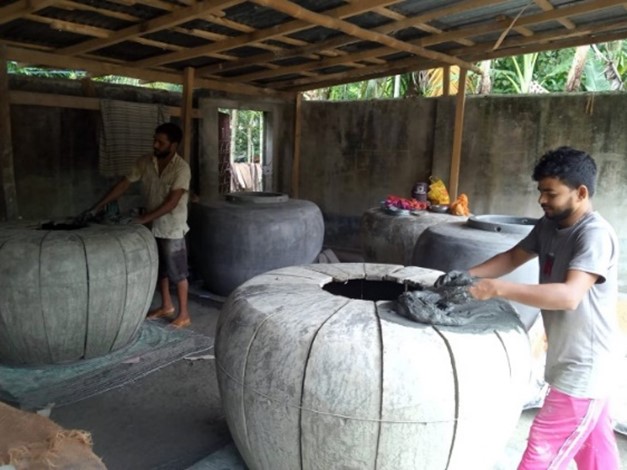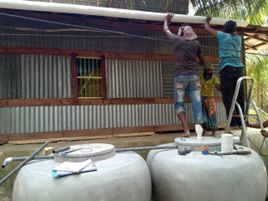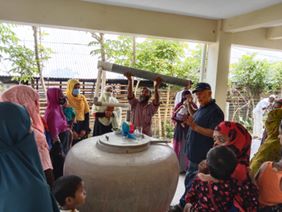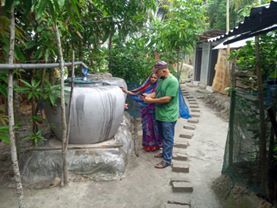 8)Potential impacts
・Residents, especially women and children, will be released from the daily burden of fetching water.
・40 households will have access to safe drinking water throughout the year.
・Both the cost of purchasing water and the incidence of water-borne disease can be reduced.
The story of a beneficiary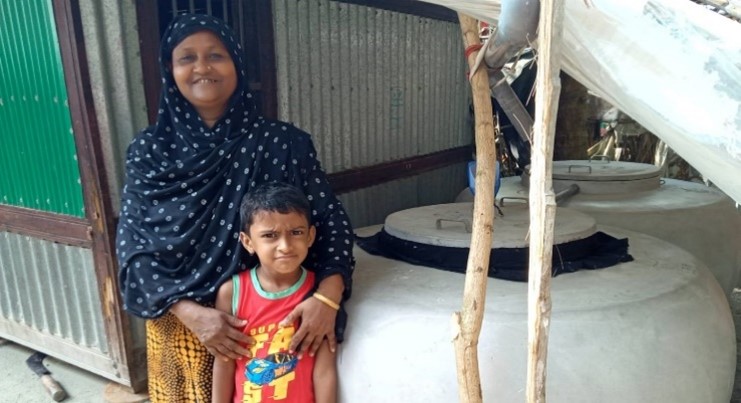 Momtaz Begum belongs to a family of five. Her husband, Md. Salim Jomadder, is a van driver and the family lives in extreme poverty on his meager income. It is very hard to bear the expenses of her children's schooling after meeting the family's other expenses. On top of the many difficulties confronting the family, the safe drinking water problem was paramount.
Due to her financial problems, Momtaz could not do anything to solve the water crisis. She and her children had to collect drinking water from a distant pond twice a day. It was very difficult to fetch the daily water and a waste of time because the children could not do their lessons properly. Unclean water from the pond constantly caused sickness in the family.
One morning, when her sons and daughters had gone to the pond to fetch water, Momtaz Begum noticed that the children of her next door neighbor, Renu Bhabhi, were studying. She remembered that in the past, when she had gone to fetch water, her neighbor had done the same. Now the neighbor could not be seen bringing water anymore. Mumtaz realized that after the AMAMIZU tanks had been installed at Renu Bhabhi's house last year, she and her children had stopped going to the pond to fetch water. This made her think. She went to Renu Bhabi's house to talk with her about AMAMIZU. She learned that not only had the family stopped fetching water, but also that sickness in their house had decreased significantly! Renu Bhabhi explained that because the pond water is in the open, it is easily contaminated by many hidden germs, making the water unsafe. So, to save her family from water-borne diseases, she should try installing AMAMIZU tanks. Renu Bhabi's suggestion impressed Momtaz, and she vowed to install the tanks at home as soon as possible.
Following Renu Bhabi's suggestion, Momtaz contacted the Morelganj office of Sky-Water Bangladesh, and was briefed on the relevant procedures. She had to deposit 3000 takas in advance as a contribution. She was a little impatient at first, but she soon remembered that installing AMAMIZU is a must for the health of her whole family.
Mumtaz said,

When I told the manager of Sky-Water Bangladesh about my financial situation, he gave me a beautiful little blue pouch with the name of the donor organization written on it and told me to put money in it, so that I could eventually save up the contribution. I continued to add money from the family funds and within 6 or 7 months I had saved up the 3000 takas. I deposited it with SBL and was able to have my name added to 4°C AQUA PROGRAM – 2022. Now my dream has come true. I'm the owner of two AMAMIZU tanks! I'm happy to think that from now on, neither I nor my children will have to fetch water from faraway ponds. My son and daughter will have time to study like Renu Bhabhi's children. My family will be disease-free. We can drink safe water! Who is happier than me today?
(Reported by Takejiro Suzuki, project manager)