The Japan Water Forum Fund (JWF Fund) was founded in 2005 and is solely operated by JWF. The JWF Fund aims to contribute to solving local water-related issues in developing countries by assisting the implementation of sustainable solutions led by grass-roots organizations.
Every year, the JWF publicly seeks out projects to assist and provides grants up to 1,500USD per project adopted after due assessment. We value the projects which utilize local resources, knowledge and technologies, and establish a sustainable operation and maintenance scheme .
During the past 18 years, the JWF Fund supported 194 projects in 32 countries, benefiting more than 268,000 people. (As of March, 2023)
The JWF Fund is made up of JWF membership fees of the JWF members and general donations.
Total number of supported projects and beneficiaries by JWF Fund 2005-2022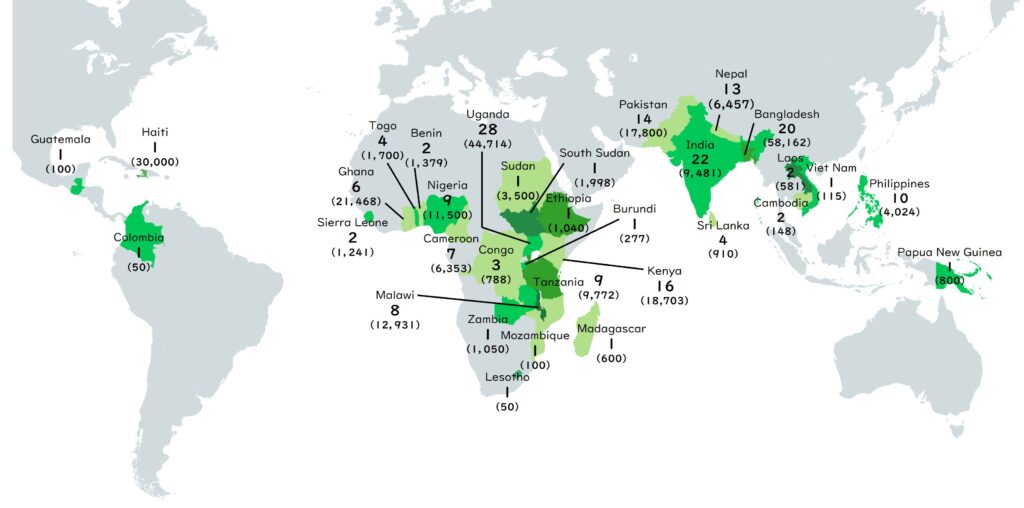 Results of JWF Fund 2005-2022
| | | | | | |
| --- | --- | --- | --- | --- | --- |
| Supported projects | Total amount of funds (US$) | Total number of beneficiaries (people) | Number of water-supply facilities (nos.) | Number of sanitation facilities (nos.) | Number of implemented workshops/programs (nos.) |
| 194 | 197,166 | 268,352 | 534 | 406 | 497 |
(As of March 2023)