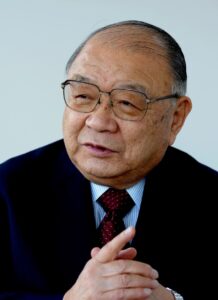 It is with great sadness that we learned of the passing of Prof. Norihito Tambo, Vice-President of the Japan Water Forum (JWF) on 6 August, 2023. We, the staff of the JWF, offer our deepest condolences to his family and friends, and pray that his soul may rest in peace.
In 2003, when water issues were becoming more severe around the world and attracting global attention, the 3rd World Water Forum took place at the Lake Biwa and Yodo River Basin in Japan. Prof. Tambo served as a member of the Forum's national steering committee. At the time, he was president of the University of the Air (and former president of Hokkaido University). He guided the committee, giving valuable advice as a leading figure in the field of water with extensive international experience. On his advice, an important principle of the forum was decided: that it was to be open to all. A great diversity of participants from all over of the world were invited, resulting in great success.
The Japan Water Forum was officially launched the following year, in November, 2004. Prof. Tambo was an incorporator of the organization and became its vice-president. He continued to provide guidance even after the 4th World Water Forum. He always encouraged young, inexperienced JWF staff members, and helped them initiate the Asia-Pacific Water Summit.
In 2009, the Water Security Council of Japan was established as a platform for water experts and leaders to discuss the future water strategy of Japan and Prof. Tambo served as chairman. Under his strong leadership, the council held ten meetings from 2010 to 2012 and presented two important recommendation reports, namely, Urgent Recommendations to Japanese Society in the Wake of the Great East Japan Earthquake and Tsunami in 2011, and Towards a Low-Carbon Sustainable Water and a Material-Circulating Society (Start Today, Looking 50 years Ahead) in October, 2012.
Based on his vast experience, Prof. Tambo always looked to the future and encouraged our young members, educating them by showing them how to build a sound future for society. His excellent leadership made the JWF what it is today. He was organization's compass, giving it direction into the future.
Though we are very sorry to hear of Prof. Tambo's passing, we must continue to move forward, in the knowledge that he is looking down on us from heaven. Remembering the precious time we shared with him, we pledge to devote ourselves to the mission entrusted in the JWF.
We bid farewell to Prof. Tambo. May his soul rest in peace.