Japan Water Forum, a secretariat of the Youth Water Forum, will host the Youth session -Local Action, Global Impact: Creating Intergenerational Partnerships for Sustainable Water Management-, an official side event of the UN 2023 Water Conference.
Date and time: 24 March 2023 (Fri), 11:00 a.m. – 12:15 p.m. (75 mins)
Location: Side Event Room C at UN Headquarters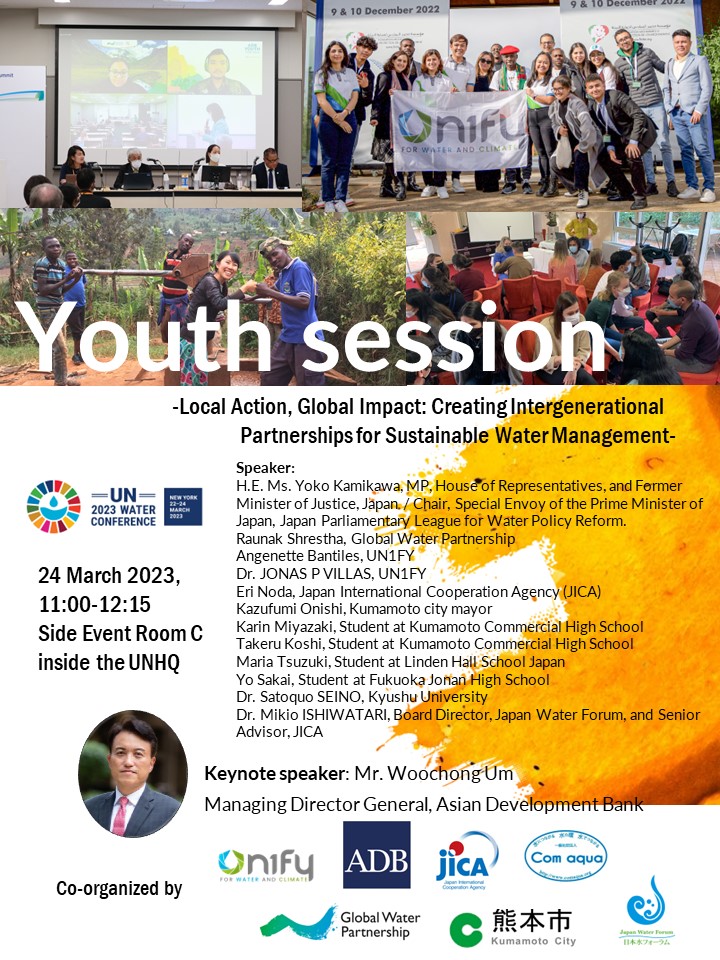 Click here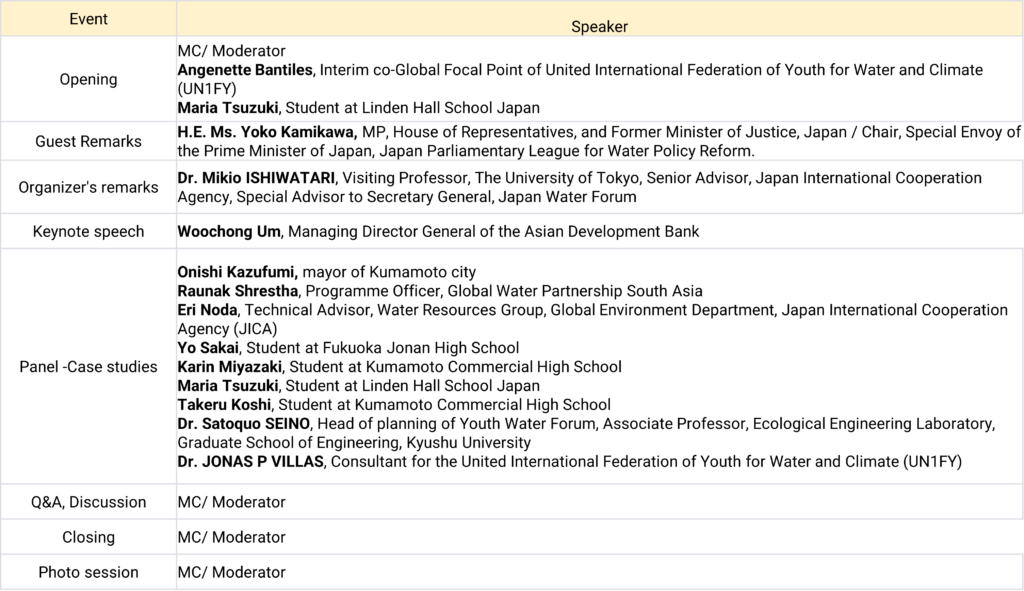 About event
The session aims at proposing meaningful youth engagement to resolve water-related issues through sharing youth-led projects across the world. The session involves a wide range of organizations including a multi-lateral development bank, a government ministry, a government organization, an international NGO, an international water platform, youth platform. Based on ongoing activities, the session will explore further initiatives led by youth groups and discuss how to strengthen intergenerational partnerships to support these initiatives.
Session title: Youth session -Local Action, Global Impact: Creating Intergenerational Partnerships for Sustainable Water Management-
Lead organization:
Water Security Council of Japan
Co-organizers (Alphabetical Order):
Asian Development Bank,
Children and Youth International,
Global Water Partnership,
Japan International Cooperation Agency (JICA),
Japan Water Forum,
Kumamoto City,
Water Cooperation Association Com aqua
Corresponding Interactive dialogue theme: ID4: Water For Cooperation: Transboundary and International Water Cooperation, Cross-Sectoral Cooperation, including Scientific Cooperation, and Water Across the 2030 Agenda (SDG 6.5, 6.b and SDGs 16, 17);
(Reported by FUKUDA Hiroko, Manager)