AQUA PROGRAM is a joint project between F.D.C. PRODUCTS INC. jewelry brand 4℃ and the Japan Water Forum. Its aim is to empower people in developing countries and bring them "beauty" and "inspiration" by resolving the serious water problems they face.
Since its establishment in 2008, several projects have been carried out in the Republic of Kiribati, Sri Lanka and Bangladesh. We have continued to work in a rural community in Bangladesh since 2017. In the 2021 program, rainwater harvesting tanks were installed in 50 households and training in operations and maintenance skills was carried out.
AQUA PROGRAM contributes to SDGs.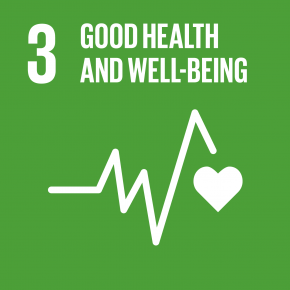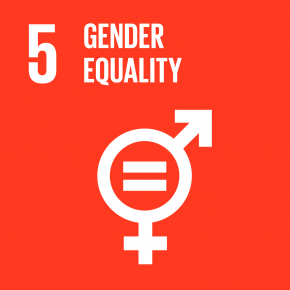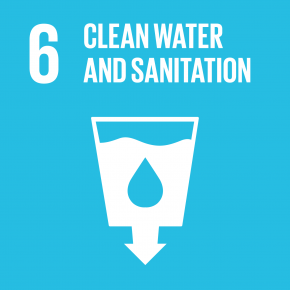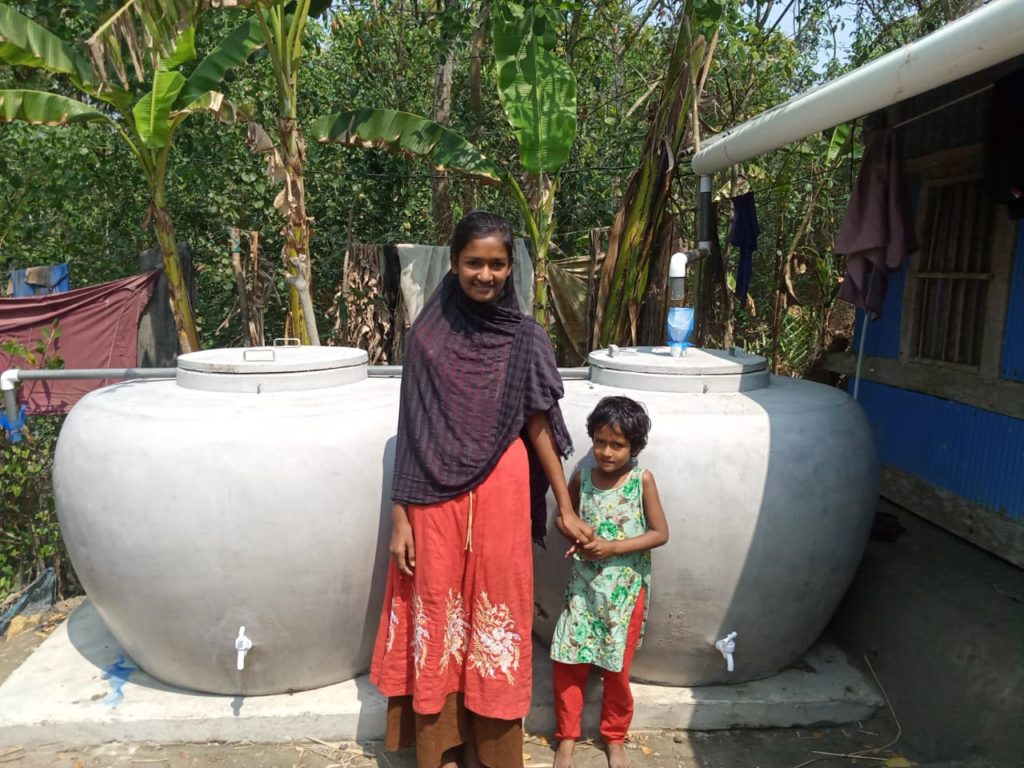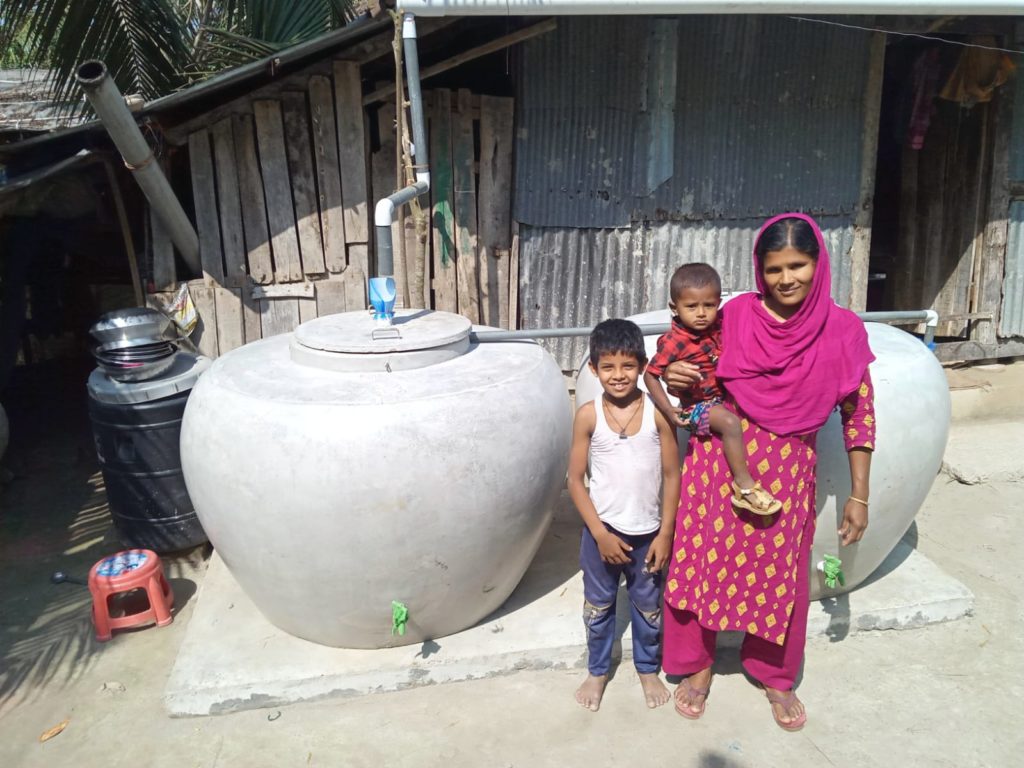 Details of AQUA PROGRAM 2021
1)Project Title
AQUA PROGRAM 2021
2)Project site
Khulna Division, Bangladesh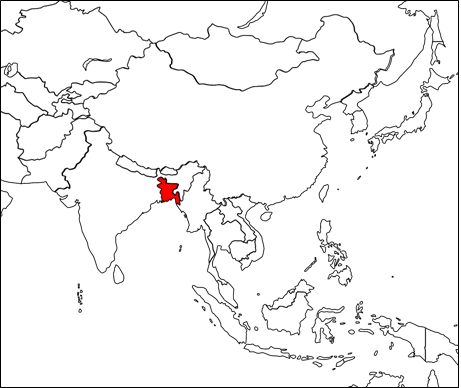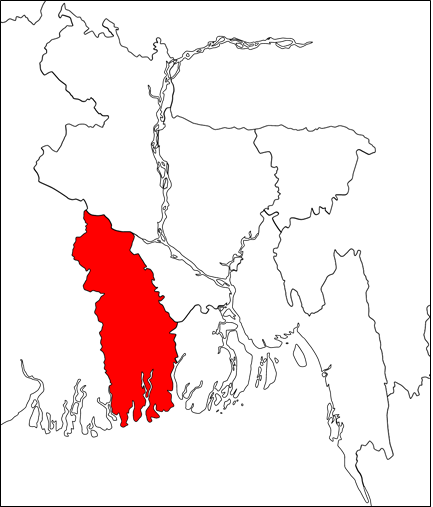 3)Beneficiaries
50 households, 233 people
4)Project period
September 2021 to August 2022
5)Local Partner
Skywater Bangladesh Ltd.
6)Problems
The project site is a typical underprivileged and marginalized village. People living there depend on unsafe wells and ponds as water resources for domestic use as well as for drinking water. Although they have small incomes, households must spend money on medical supplies and treatment for water-borne diseases such as diarrhea, and for purchasing water in order to meet their needs in the dry season. Fetching water is a daily burden especially for women, and the cost of buying water is stressing household budgets.
7)Main activities
Baseline survey/Preparing social map
Installing rainwater-harvesting tanks (2 tanks in each location) and pipes in 50 households
Training in operations and maintenance
Experience sharing workshop
Follow-up visit to each household
Water quality testing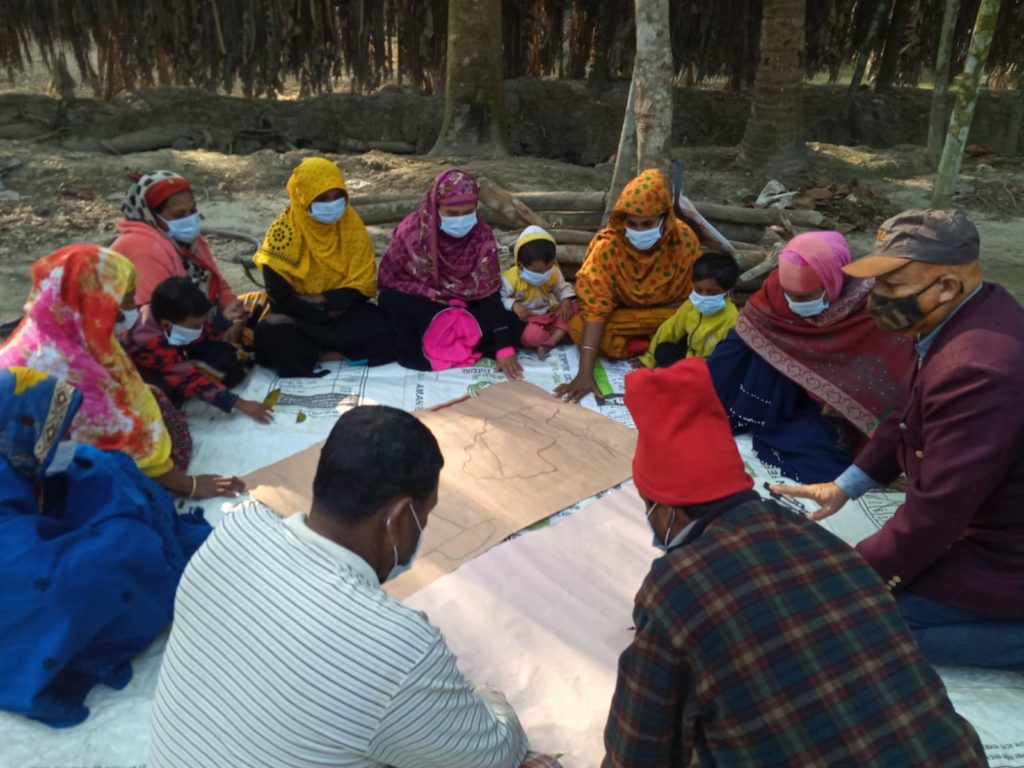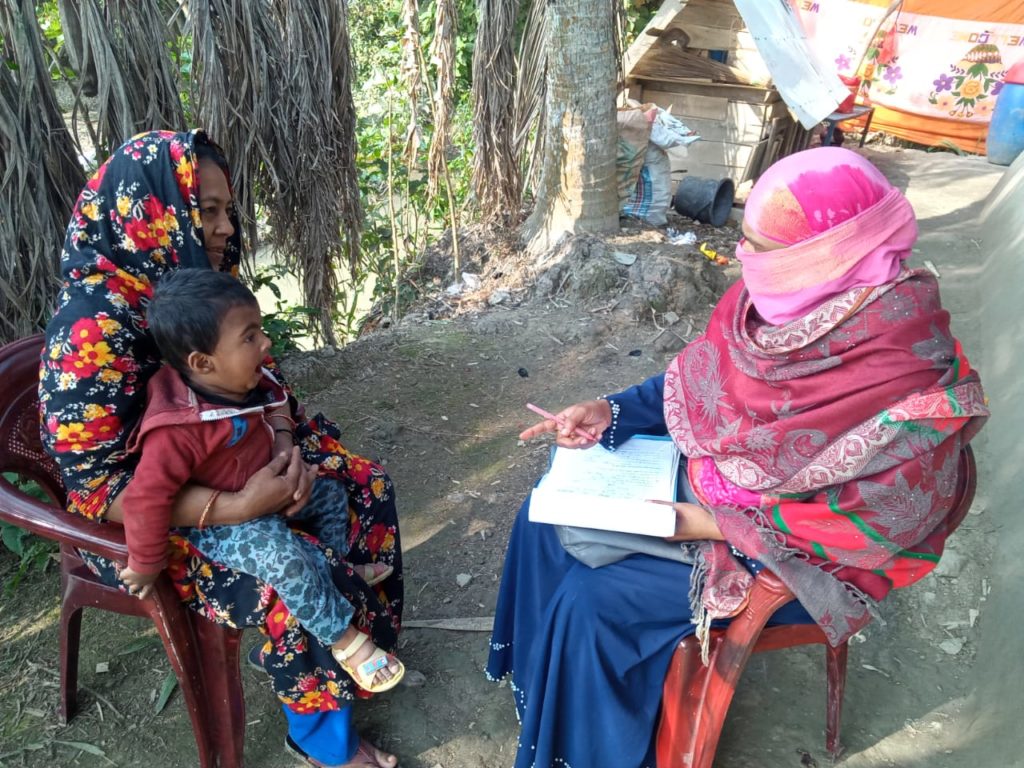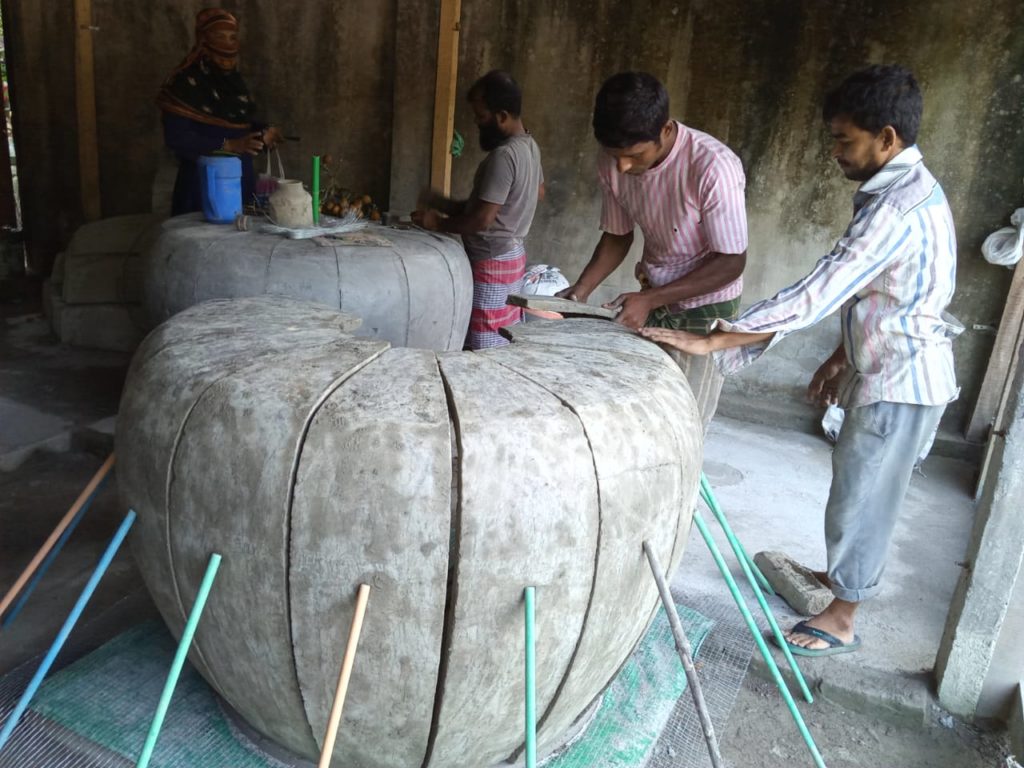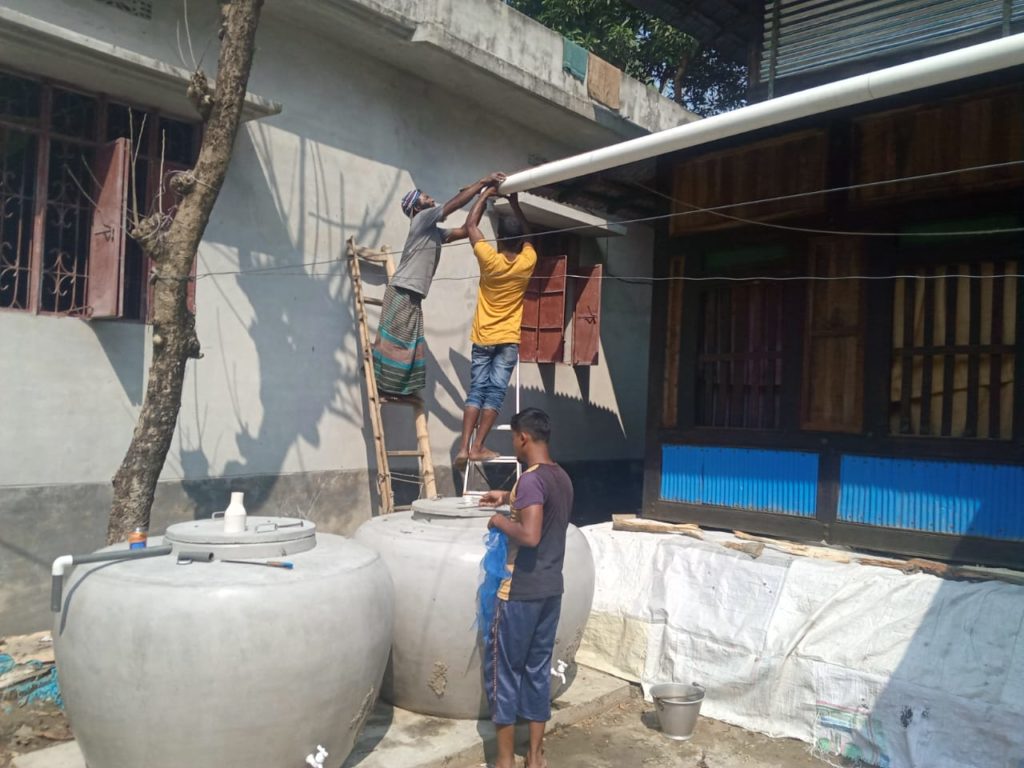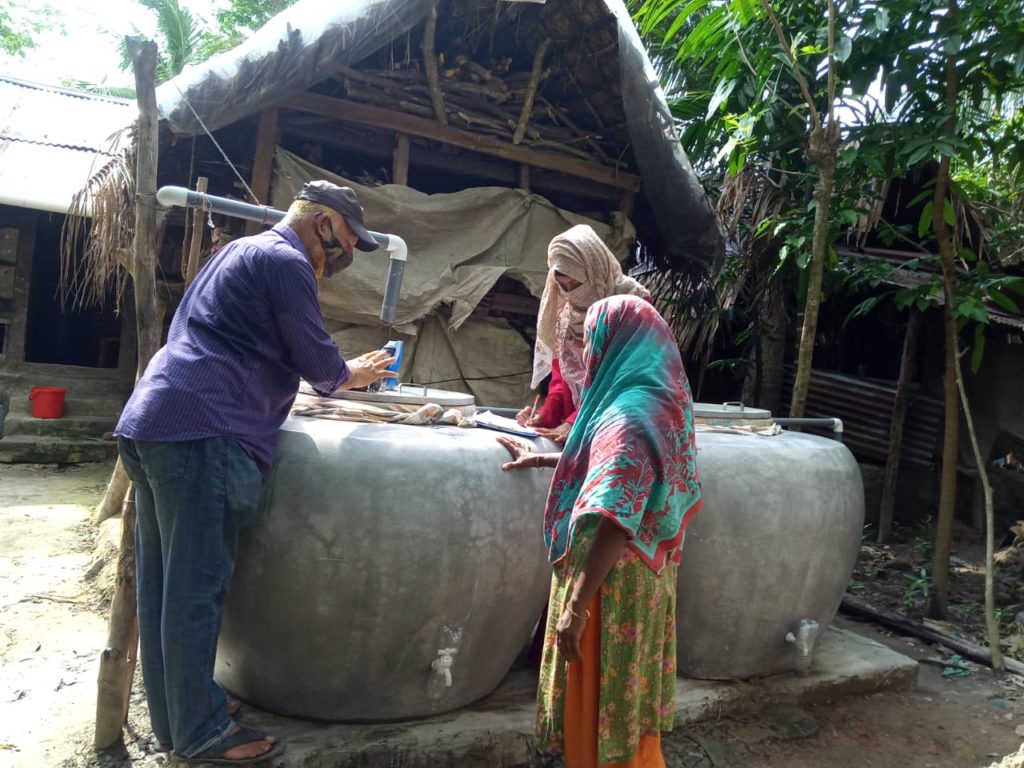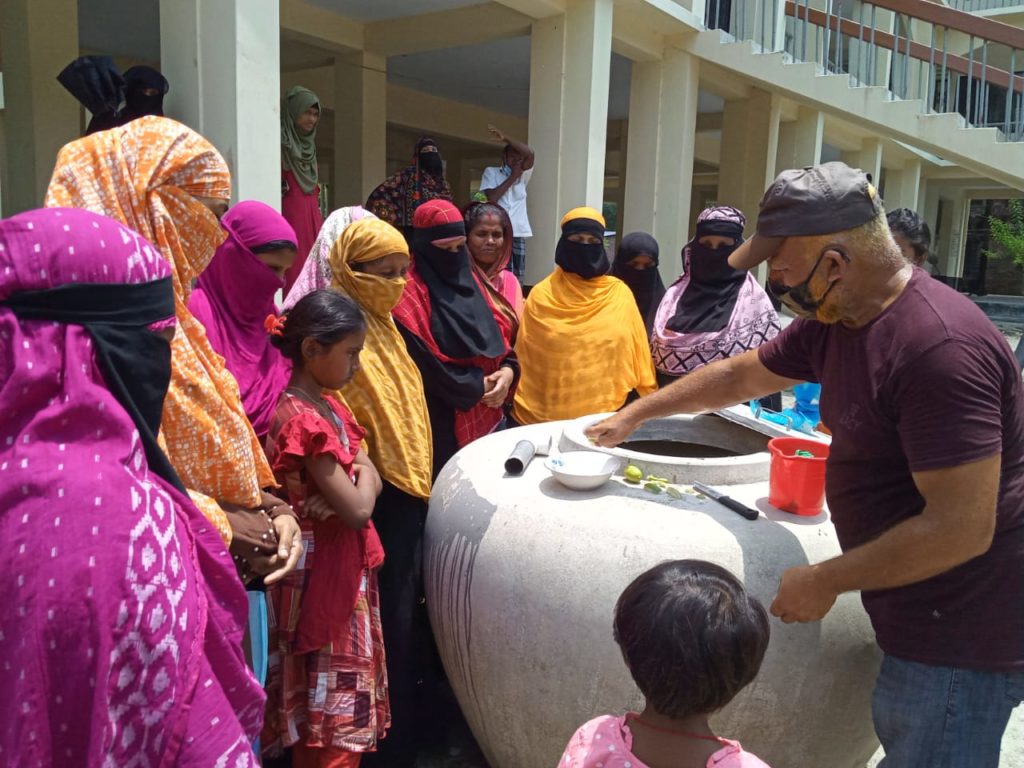 8)Potential Impacts
People are released from the daily burden of fetching water.
The cost of purchasing water and the incidence of water-borne disease can be reduced.
50 households are able to access safe drinking water throughout the year.
Voice of a beneficiary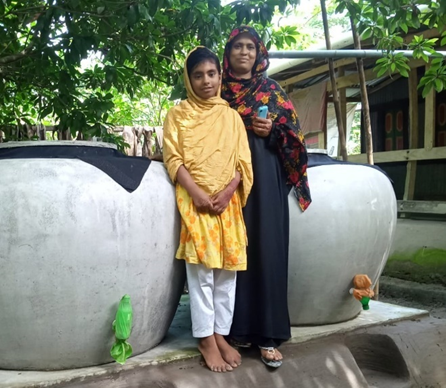 Despite my husband's low income from agriculture, we were doing well. Our biggest problem was drinking water! Every year, members of our family would get diarrhoea due to drinking pond water and would have to take medicine.
Tears well up in my eyes when I talk about this incident. It happened 4 years ago in March. My eldest daughter came to visit our home along with her 4-year-old daughter, a very beautiful and lively girl. Our granddaughter played all over the house. Everyone loved her!
One afternoon, the girl suddenly got diarrhoea. Everyone thought it would be fine, but as time went by, her bowel movements got worse, and she started vomiting as well! Over time, her bowel movements and vomiting increased. Diarrhea was very common, so we had medicine. I gave her some medicine, but it didn't work. As evening passed and night fell, we decided to wait until morning to take her to the hospital, as the road was bad. That night was very long for us and it seemed as though dawn would never come! Meanwhile, our granddaughter couldn't speak and become completely lifeless! Everyone thought that it would be hard to save her life! As soon as the morning light came, we took her to Morelganj Hospital. The duty doctor scolded us after seeing her and asked why we delayed bringing her to the hospital! Anyway, he gave her first aid and told us to take her to the government hospital in Khulna as soon as possible. We left for Khulna in the Morelganj hospital ambulance. It took only an hour and a half to get there, but that hour and a half seemed like the longest time in my life!
The doctor at Morelganj Hospital had said that the cause of our granddaughter's diarrhea was drinking unboiled pond water! All the way to Khulna I just cried and called on God. I forbade myself from inviting anyone to my house until we could provide good water. At the Khulna hospital, my granddaughter recovered with the help of the doctors and returned home after three days. I sent her directly to her father's house, not to my house!
I have not had my granddaughter at my house in the four years since this incident. Now she is eight years old. With a lot of difficulty, I was able to deposit the contribution money with SBL this year. The Amamizu system was set up last May, and rainwater has been accumulating in the tank since the beginning of June. I will bring my granddaughter home as soon as the the Amamizu tank is full . Now I am very happy with all my heart to see her walking around and playing in front of my eyes.
I thank everyone for the great initiatives of Yondoshi Holdings Inc. and the Japan Water Forum. Thousands of people in Morrelganj can drink safe water today! God bless them!
(Reported by Miyo Tabata, Manager)