6th Project: Improvement of Sanitation Facilities in Teaplantation Community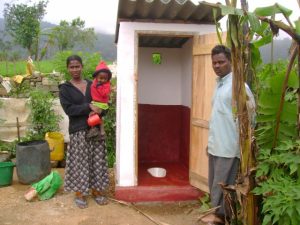 Family with constructed pit latrine
1)Project site
Warwick Tea Estate, Badulla District, Uva Province, Sri Lanka
| | |
| --- | --- |
| |   |
| Sri Lanka | Uva Province |
2)Beneficiaries
250 people living in the Warwick Tea Estate
3)Project period
September 2011 to July 2012
4)Local partner
COSI Foundation for Technical Cooperation  (COSI)
5)Problems
There are no water supply and sewerage systems in the Warwick Tea Estate. People use surface water from a creek for domestic and drinking purposes. In addition to that, people are forced to urinate and defecate outside due to the limited numbers of pit latrines.
6)Outputs
・Conducting pre-meeting with the people in the estate
・Construction of 50 pit latrines
・Conducting training on the construction skills for the latrine with local people
・Conducting awareness raising program on sanitation
7)Potential Impacts
・People in the estate are able to access to pit latrines.
・People acquired construction skills to built the latrines
・People's awareness towards sanitation issues has improved.
Before the project
 Existing sanitation facilities in the Warwick Tea Estate
During the project

| | |
| --- | --- |
| | |
| Pre-meeting with people | Construction of foundation for pit latrine |
After the project
| | |
| --- | --- |
| | |
| Constructed pit latrine | Family with a constructed pit latrine |