2nd Project: Rural Water Improvement Project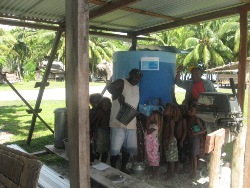 People with constructed rainwater harvesting tank in Karumolun village
1)Project site
Marulaon and Karumolun villages, Russell Islands, Central Province, Solomon islands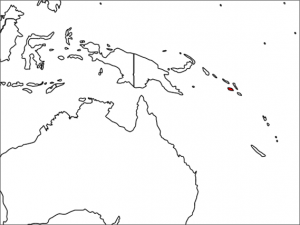 Solomon islands
2)Beneficiaries
221 people of the Marulaon and Karumolun villages
3)Project period
April 2008 to March 2009
4)Local partner
RDVA (Rural Development Volunteers Association)
http://ruraldevelopmentva.blogspot.jp/
5)Problems
The villages of Marulaon and Karumolun are situated on an island consisting of coral reefs and limestone, with no drinkable surface water and underground springs. Therefore, rainwater is the only source for drinking water. Water shortage has been getting serious due to increasing population and growing socio-economic activities. People are forced to have 2-hour travel the main island to buy water.
6)Outputs
・Installation of rainwater harvesting tanks at three houses in the Marulaon village
・Installation of two rainwater harvesting tanks in a public square of the Karumolun village
7)Potential Impacts
・People in both Marulaon and Karumolun villages are able to access safe drinking water.
Before the project
| | |
| --- | --- |
| | |
|  An existing well in the Marulaon village | An existing well in the Karumolun village |

After the project

A constructed rainwater harvesting tank
in the Marulaon village
A constructed rainwater harvesting tank
in Karumolun the village