Japan Water Forum has started a follow-up activity on AQUA PROGRAM 2014 and 2015 in which rainwater-harvesting tanks were installed at households of the village in Vavuniya, Sri Lanka.
What is 4°C AQUA PROGRAM?
4°C is a brand name of F.D.C. PRODUCTS INC which develops businesses in the fields of jewelry, apparel and bags.
4°C is the underwater temperature at which the surface of a lake freezes, providing fish with a tranquil and safe sanctuary. In addition to its inestimable power, water freely changes its form and is the source of all life. These features provide the wellspring for the 4°C brand concept, which strives to instill pleasure, serenity and inspiration to a broad customer base.
4°C AQUA PROGRAM has been established in 2008 as a joint project with F.D.C. PRODUCTS INC. and Japan Water Forum in the aim of supporting women facing water related issues. Since its establishment, we have carried out projects in Republic of Kiribati and Sri Lanka.
Along with the launch of the 9th edition of the program in Bangladesh, we have completed our activities in Sri Lanka. The follow-up activity aims to grasp the changes in the village of Vavuniya and evaluate the impact of the project.
F.D.C. PRODUCTS INC. is a group company of YONDOSHI HOLDINGS INC. which is a corporate member of the JWF.
Outline of the Follow-up activity
1) Project Site
Mahakachchakodiya, Vavuniya, Northern Province, Sri Lanka
| | |
| --- | --- |
| | |
| Sri Lanka | Mahakachakodiya, Vavuniya, Northern Province |
2) Project period
September 2016 to February 2017
3) Local partner
Lanka Rain Water Harvesting Forum(LRWHF)
http://www.lankarainwater.org/
4) Problems
Water resources are limited in the Northern provinces of Sri Lanka. People have to get drinking water from wells which is more than 1 kilometer away from their houses or purchase purified water in town. Fetching water is daily burden for people, especially women and girls, and the cost of purchasing water is stressing on households economy. In recent years, due to the pollution by residual agricultural chemical in a soil, quality changes in well water (taste and appearance) are identified. It has been pointed out that continuation of drinking well-water will lead to Chronic Kidney Disease (CKD).
5) Expected output
・Collecting information of changes of people by installing rainwater-harvesting tanks in 2014's and 2015's project,
・Evaluate the impact of the projects,
・Installing rainwater harvesting tank for 9 households, and
・Training each household in how to operate and maintain the rainwater harvesting tank.
6) Expected outcome
・Information of people's changes by the projects will be collected.
・Impact of the projects will be grasped.
Photographs
| | |
| --- | --- |
| | |
| The well people sharing | The water is cloudy and people complain it is salty |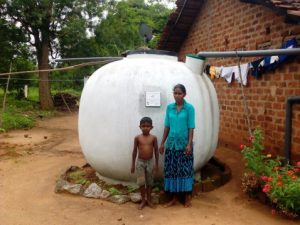 The same tank will be installed
This Follow-up is managed through donations for Charity for Water.
(Reported by Akie Gunji, Assistant Manager)