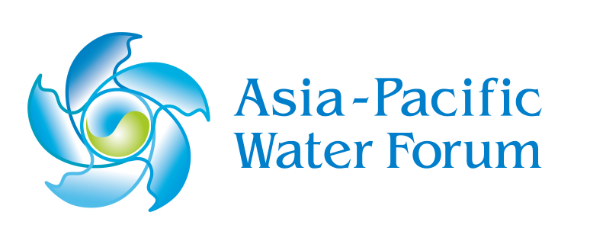 Asia and the Pacific face escalating pressure to provide water security for their vast population, especially vulnerable groups. The COVID‐19 Pandemic has demonstrated the Asia and Pacific region's current vulnerabilities. Without fully understanding the rapidly changing hydro‐metrological interactions using the best available science and data and communicating them well to each country's public, achieving the necessary resilience within a short timeframe will not be possible. This session thus examined and enhanced understanding of the water cycle elements and put water governance mechanisms to strengthen resilience and deliver on its commitments of SDG6 and other water‐related goals. It was organized as the milestone for the 4th Asia-Pacific Water Summit (APWS).
Asia Focus: Water Cycle Management for resilient and equitable societies 
24 August (Tue) 14:00 – 15:00 JST
Co-conveners: APWF, UNESCO Regional Science Bureau for Asia and the Pacific, UNESCAP, International Water Management Institute (IWMI), Japan Sanitation Consortium, The Secretariat of the Headquarters for Water Cycle Policy, Cabinet Secretariat, JAPAN, Korea Water Forum
Session recording https://youtu.be/Upgp22VQna4
Presentation overview
UNESCAP has produced a new policy brief exploring the relationship between SDG6 and COVID-19 impacts and responses in the Asia-Pacific region. It was developed for the APWF to contribute to the discussion in the 4th Asia-Pacific Water Forum. The Policy Brief is downloadable from https://www.unescap.org/kp/2021/sdg-6-covid-19-accelerating-progress-towards-sdg-6-asia-pacific-region-context-covid-19.
In the presentation by Mr. Curt Chief, Sustainable Urban Development Section, Environment and Development Division, UNESCAP, he first introduced the Regional SDG6 Progress 2021 and the analytical outcomes of COVID19 impacts and the SDGs. He then highlighted the five priorities areas: Financing, Data and Information, Capacity Development, Innovation, and Governance, and delivered 11 policy recommendations.
Dr. Pierre Flamand, Manager of International Affairs, Japan Sanitation Consortium, presented Japan's current status and Vision for Wastewater Reclamation. He introduced:
Background on reclaimed wastewater
The current state of reclaimed wastewater in Japan
The Sewerage Vision 2100, including the way forward for reclaimed wastewater in Japan
Three case studies about reclaimed wastewater projects in Japan: Fukuoka City, Saitama-City, Tadotsu Town, Kagawa prefecture
Lessons learned and key messages
In conclusion, he emphasized that wastewater reclamation is an effective option to reduce the impact on water resources and the cost and energy involved in water resource management. New approaches for water and wastewater systems are needed for efficient and cost-effective integration of wastewater reclamation in the water cycle. He expected for increased integration of wastewater reclamation projects (with subsidies) and initiatives to develop technologies reducing the cost and energy involved in wastewater reclamation.
Dr. Manohara Khadka, Country Representative – Nepal and South Asia, International Water Management Institute (IWMI), presented IWMI's research work to Promote Gender Equality and Social Inclusion (GESI) through Scientific Evidence and Policy Engagement in Nepal and South Asia. As the lesson, she stressed interdisciplinary scientific researches looking at both biophysical and social dimensions of water solutions) and integrating gender and social inclusion approaches to WASH planning and decision-making are crucial for building resilience. As the action proposal, she highlighted:
Scaling farmer-led irrigation development (FLID), solar irrigation, and the community-managed water supply system as sustainable solutions in South Asia and Nepal,
The necessity for more support to strengthen the capacity of local governments and water user groups to practice inclusive WASH, and
Invest in water policy, institutional processes, and scientific innovations that enhance the incomes and livelihoods of women and marginalized groups to overcome the situation.
Mr. Osamu Kondo, Director, Secretariat of Water Cycle Policy Headquarters, Cabinet Secretariat, Japan, presentedthe Sound Water Cycle Policy in Japan and the cases of Kumamoto, Miyagi-Prefecture, and Hadano city, Yokohama Prefecture. He highlighted as following:
Necessary to think of water in the water cycle and think of water as public nature.
The institutional arrangement is essential at the national level to facilitate cooperation among authorities on water.
A basin-level approach is also indispensable to put the national plan into practice. The water cycle management joined by all stakeholders should be adopted to recover/ maintain the sound water cycle.
Data management is strongly recommended to facilitate evidence-based discussion. Science and technology are also helpful in clarifying the water cycle mechanism.
Dr. Ik-Jae (IJ) Kim, Director General, Chief Research Fellow, Water, and Land Research Group, Korea Environment Institute (KEI), shared current progress and challenges of National Water Reform in Korea. He firstly pointed out that five ministries and agencies fragmented past institutional architectures, which brought too many water-related Act (more than 80) and plan (more than 60). These also caused the duplication and lack of coordination in the river restoration projects. Secondly, Dr. Kim introduced the National Water Reform enforced on June 8, 2018. The reform merged work areas between the Ministry of Environment (MOE) and the Ministry of Land, Infrastructure, and Transport (MOLIT). It then appointed MOE to conduct the Integrated Water Resources management. Dr. Kim also shared the Korean Government enforced the Water Framework Act, in which the Prime Minister and the Public experts are the co-chairs, and introduced the 1st National Water Plan 2021-2030. It also aims to develop four river basin plans by June 2022. 
Dr. Hans Dencker Thulstrup, Senior Programme Specialist for Water and Environmental Sciences, UNESCO Regional Science Bureau for Asia and the Pacific, introduced Assessing SDG progress from the stakeholder perspective. It aims to publish the evaluation about the water-related SDGs progress in Asia and the Pacific in terms of the water cycle. It then seeks to launch in the 4th APWS. As part of the cases, he introduced the instances summarized by JSC, IWMI, and JWF. He also called for the writing contributions from the audience to support the decision-making processes of the Heads of State and Government to achieve sound water cycle and water-related SDGs in Asia and the Pacific.
In the panel discussion, the speakers responded to the questions from the audience about the ways to overcome the data shortage to monitor the progress of water-related SDGs. They also discussed the necessary measures in the water cycle to overcome the adverse impacts of the COVID-19 Pandemic.
3 Key Action Proposals from the Asia Focus Water Cycle Management Session
Action 1:
Undertake and publish a region-wide stakeholder-generated assessment of progress towards SDG6 and other water-related SDG targets, starting with the participants in this session and their regional networks, -and invite all participants to join.
Action 2:
Examines and understands all elements of the water cycle and puts in place water governance mechanisms. All stakeholders work together to address problems and jointly find the appropriate solutions using the lessons learned from regional case studies.
Action 3:
Lack of gender-transformative policy and institutional measures are systemic barriers to ensure access to and control over water services, technologies, incentives, and information by women and marginalized groups. Invest in water policy, institutional change, and scientific innovations that support enhancing their incomes and livelihoods from water management and uses and ensure their voice and influence in water planning and decision-making across scales.

Programme
Session introduction
Ms. Yumiko Asayama, APWF Secretariat c/o Manager, Japan Water Forum
Presentations
Accelerating Progress Towards SDG6 in the Asia-Pacific Region in the Context of COVID-19
Mr. Curt Garrigan, Chief, Sustainable Urban Development Section, Environment and Development Division ESCAP 
Current Status and Vision for Wastewater Reclamation in Japan
Dr. Pierre Flamand, Manager of International Affairs, Japan Sanitation Consortium
Water Solutions for Building Resilience and Equitable Society:
Promoting Gender Equality and Social Inclusion (GESI) through Scientific Evidence and Policy Engagement
Dr. Manohara Khadka, Country Representative – Nepal and South Asia, International Water Management Institute
Managing WATER on the Sound Water Cycle Policy
Mr. Osamu Kondo, Director, Secretariat of Water Cycle Policy Headquarters, Cabinet Secretariat, Japan
Current Progress and Challenges of National Water Reform in Korea
Dr. Ik-Jae (IJ) Kim, Director General, Chief Research Fellow, Water and Land Research Group, Korea Environment Institute (KEI)
Assessing SDG progress from the stakeholder perspective
Dr. Hans Dencker Thulstrup, Senior Programme Specialist for Water and Environmental Sciences, UNESCO Regional Science Bureau for Asia and the Pacific
Q & A and Panel Discussion
Moderator: Dr. Hans Dencker Thulstrup, UNESCO Regional Science Bureau for Asia and the Pacific
Panelists: above speakers
Summary & Wrap Up
Dr. Hans Dencker Thulstrup, UNESCO Regional Science Bureau for Asia and the Pacific
(Reporter: Yumiko Asayama, Manager)