━━━━━━━━━━━━━━━━━━━━━━━━━━━━━━━━━━━
【JWF News Vol. 196】17 February 2021
━━━━━━━━━━━━━━━━━━━━━━━━━━━━━━━━━━━
◇ Contents ◇
・Forward Valuing Water
・Announcement from the Japan Water Forum
– The 8th APWF Webinar will be organized on 12th March
– Asian Water Development Outlook 2020: Advancing Water Security across Asia and the Pacific

・Report from the Japan Water Forum
– Overview of the 5th, 6th and 7th APWF webinar

━━━━━━━━━━━━━━━━━━━━━━━━━━━━━━━━━━━
・Foreword  Valuing Water
By Dr. Kotaro Takemura, Secretary General of the Japan Water Forum
━━━━━━━━━━━━━━━━━━━━━━━━━━━━━━━━━━━
What are water problems?
 We often use the term "water problems". What this term means differs between each country and region. In arid regions, a water problem means drought, while in monsoon regions it means flooding. In developed countries, the problems are about wasting water and energy, while in developing countries, water contamination, lack of water infrastructure, and divide in access to services are the most serious challenges.
 We say that water is precious. But what this really means varies. Though water is critical for our survival, it is always flowing and changing. Unlike, for example, minerals, it is impossible to express a fixed notion of water. Regional differences and the fluidity of water mean we cannot share a common standard of water value.
 Moreover, people in different positions in society, such as government leaders, politicians, administrators, business people, and average citizens have different perspectives on water. The meaning of the term "water problems" varies because of the diversity of water and the diversity of perspectives on water.

What is a common perspective and evaluation index?
 The fact that there is no common perspective or evaluation index of water makes the solution of water problems more difficult. If there were a common index of water, we could discuss the preciousness of water across national and ethnic boundaries. If there were a common index of water, we could gain a common understanding across different social sectors about the necessity of investment in water infrastructure and the maintenance of existing water infrastructure. If there were a common index of water, we would be able to discuss how to cooperate on the international sharing of water.
 So, what is a common index?
 It should be:
 ・understood in every country across the world
 ・understood by people in every sector
 ・objective, fair and open to the public
 A common index that meets all these requirements in today's world is monetary value, or in other words price. The things that support production and our livelihoods are called assets. All assets are evaluated in monetary terms. Water is one of these assets. However the asset value of water has not been evaluated in monetary terms.

The difficulty of evaluating water in monetary terms
 Since ancient times, we have seen a variety of research and opinions on evaluating water in monetary terms. But these efforts have faced many difficulties. The availability of water is closely related to the situation of local communities.
 Communities have historically developed alongside agriculture, which required water. In its hundreds or thousands of years of history, each community built water infrastructure and gained wisdom and ingenuity for managing and sharing water. Each community developed a unique water culture, which has deeply permeated the whole society.
 Water culture has been influenced by the water running through the community and being used by the local population. Therefore, we can say that the water culture of a community is part of the history of the community. However, the moment we try to evaluate this in monetary terms, we are at a loss how to do it. We cannot evaluate the water culture and history of a community in monetary terms. As long as it is not evaluated in monetary terms, water, which is crucial for all human activities, is assigned no specific value.
Japan in the global water system
 Japan is fully incorporated into the global water system. Figure 1 illustrates this. The Ministry of Land, Infrastructure, Transport and Tourism (MLIT) calculates the amount of water used by agriculture, industry and households in Japan. This consists of the water harvested throughout the country and therefore is included in the self-sufficiency rate.
 However, this is not all the water consumed by Japan. We import soy beans and wheat used for making noodles and bread from countries around the world. The water used abroad to produce this food is called virtual water.
 Figure 2 shows the total amount of water used by Japan, including virtual water. Virtual water accounts for 40% of the total. This means that Japan's water self-sufficiency is 60%. Japan relies heavily on other countries for water. Therefore, global water problems and water crises are also our own.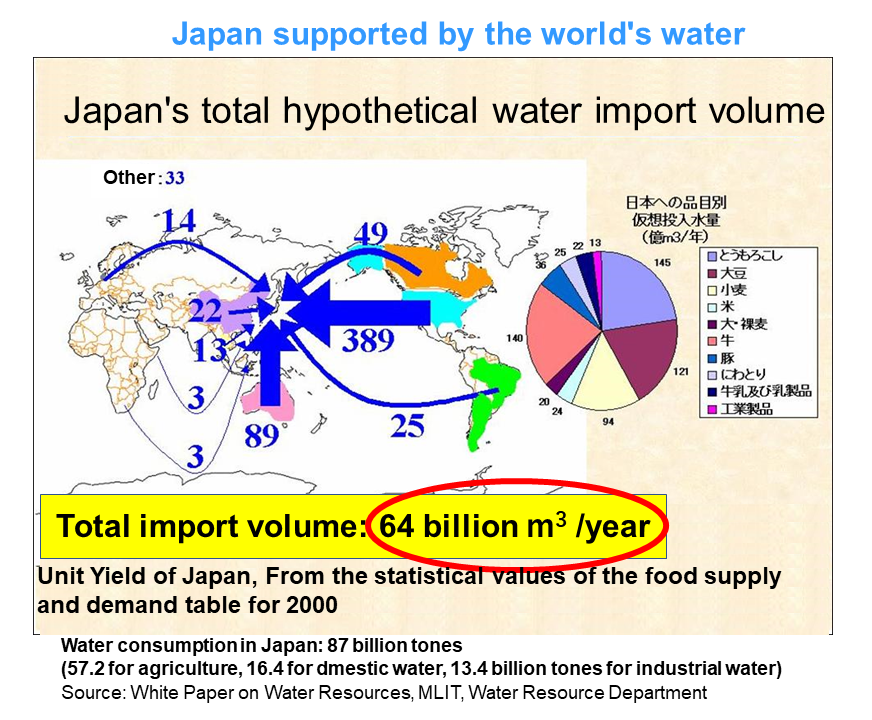 (Figure 1)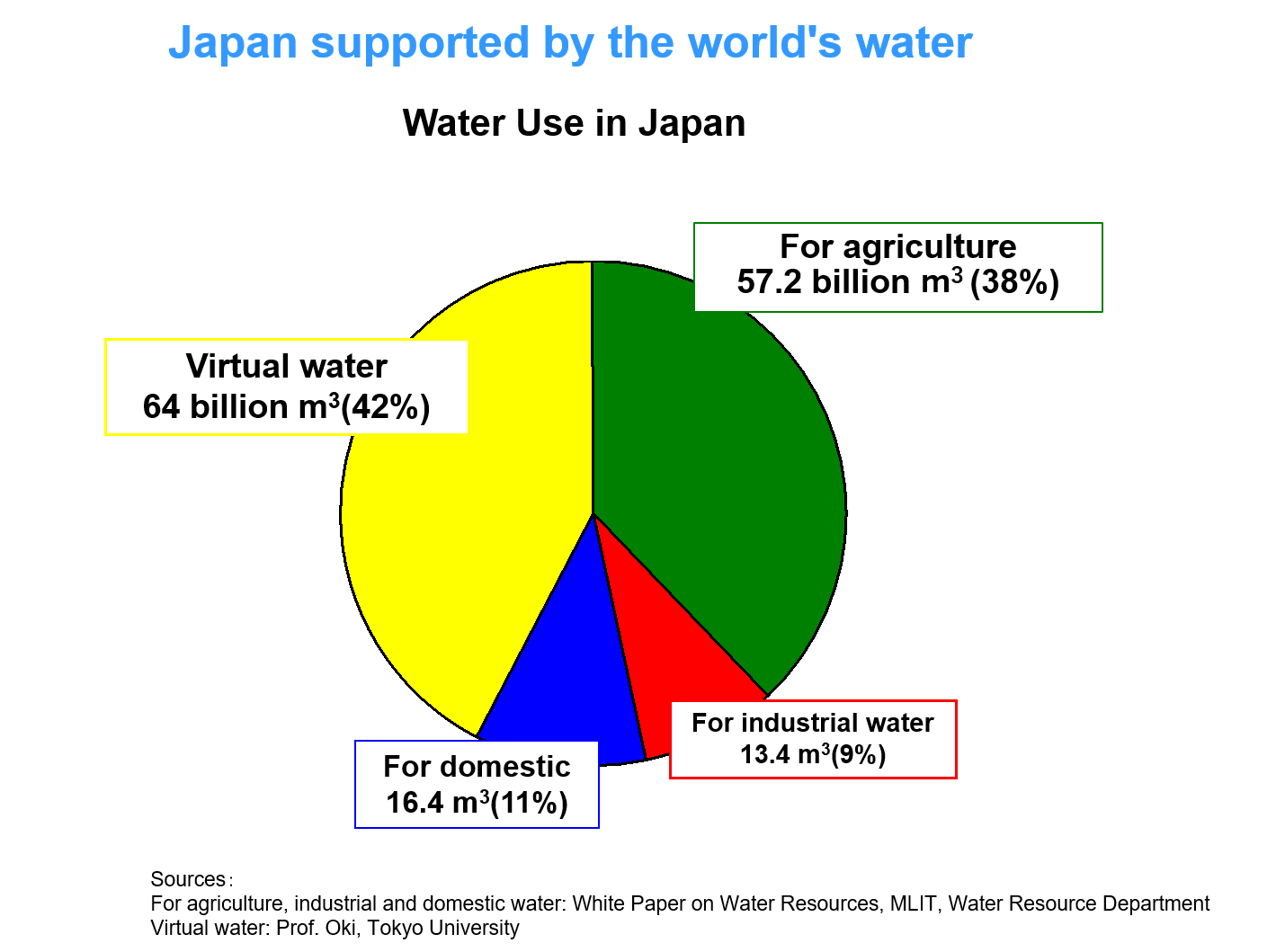 (Figure 2)
Evaluating the value of water in each basin
 It is said that the 20th century was the century of oil, while the 21st century is the century of water. Water is critically important around the world and water crises are looming on the horizon. Therefore, a universally applicable common evaluation index of water is an absolute necessity.
 Points to be considered:
 ・Water belongs physically to its own basin
 ・Meteorological and terrestrial phenomena differ between each basin
 ・History and culture differ between basins, and consensus-building on water follows different paths
 Considering the above points, evaluating water value should be done on a basin-by-basin level.
 Those of us living on the Japanese archipelago need to do what we can and send information about our efforts to other countries. One task is to establish a water evaluation index and make it known around the world. This is the duty and responsibility of Japan, whose livelihood is heavily dependent on global water.
━━━━━━━━━━━━━━━━━━━━━━━━━━━━━━━━━━━
・Announcement from the Japan Water Forum
━━━━━━━━━━━━━━━━━━━━━━━━━━━━━━━━━━━
– The 8th APWF Webinar will be organized on 12th March
・Date and Time : 12th March 2021 (Fri) 15:30-16:30 (Japan Time)
・Topic: WASH as entry point to reduce Covid-19 vulnerabilities and other hazards
・Speakers: UN-HABITAT
 - Mr. Atsushi Koresawa, the UN-Habitat Regional Representative of Asia and the Pacific
 - Dr. Avi Sarkar, the Regional Advisor, South-East Asia, Urban Basic Services, UN-Habitat
 - Ms. Inga Korte, the UN-Habitat Team Leader Urban Climate Resilience for Fiji and the Solomon Islands.
 - Mr. Juan Torres, Information Management Officer for UN-Habitat Lao PDR Office
 - Ms. Oddy Angel, the Programme Coordinator of Community-driven Development Unit for Myanmar.
 - Ms. Parul Agarwala, Country Programme Manager, UN-Habitat, India office

▼The Registration▼
https://us02web.zoom.us/webinar/register/WN_76BuAqHKQNum1u8yjZxlXw
————————————————————————————————————————
– Asian Water Development Outlook 2020: Advancing Water Security across Asia and the Pacific
The Asian Development Bank and Asia Pacific Water Forum released Asian Water Development Outlook (AWDO) 2020 on 18 December 2020.
AWDO 2020 provides a comprehensive national analysis of water security across Asia and the Pacific based on the five key dimensions of: 1- Rural Water Security, 2 – Economic Water Security, 3 – Urban Water Security, 4 – Environmental Water Security, and 5 – Water-Related Disaster Water Security.

▼Please visit the following website for details ▼
https://www.waterforum.jp/all/info/2020/1224/?p=16507?tag=en,rep_en

(Reported by Yumiko Asayama, Manager)
━━━━━━━━━━━━━━━━━━━━━━━━━━━━━━━━━━━
・Report from the Japan Water Forum
━━━━━━━━━━━━━━━━━━━━━━━━━━━━━━━━━━━
– Overview of the 5th, 6th and 7th APWF webinar
The Asia-Pacific Water Forum (APWF) has organized the APWF webinar series as a part of the important preparation process for the 4th APWS. The objective of the APWF webinar series is to widen and deep-dive into the knowledge of government officials from 49 countries in Asia and the Pacific, including those working in Japanese embassies and the practitioners in the world, and to hold discussions on the latest water and water-related issues from different perspectives.

▼Overview of the 5th and 6th webinar▼
https://www.waterforum.jp/all/policy_recommendations/apws/2021/0217/?p=16699?tag=en,rep_en

▼Overview of the 7th webinar▼
https://www.waterforum.jp/all/policy_recommendations/apws/2021/0217/?p=16694?tag=en,rep_en

(Reported by Yumiko Asayama, Manager)

━━━━━━━━━━━━━━━━━━━━━━━━━━━━━━━━━━━
▼JWF News Archives▼
https://www.waterforum.jp/all/newsletter?tag=en,rep_en
If you wish to post information on our bulletin board, or should you prefer not to receive further JWF News, please contact us.
You can also get in touch regarding subscribing, changes of address, or any other comments or requests.
■━━━━━━━━━━━━━━━━━━━━━━━━━━━━━━━━━■
JWF News Vol. 196 / 17 February 2021
Japan Water Forum
6th fl., 5-4 Nihonbashi-Hakozaki-cho, Chuo-ku, Tokyo, 103-0015
TEL: 03-5645-8040 FAX: 03-5645-8041
E-mail: news[at]waterforum.jp URL: https://www.waterforum.jp/en/
※Please change [at] to @
JWF staff members currently work from home (remote work) to prevent the spread of COVID-19 infections.
We wish you to stay safe and healthy during this difficult time.
■━━━━━━━━━━━━━━━━━━━━━━━━━━━━━━━━━■