JWF Fund 2019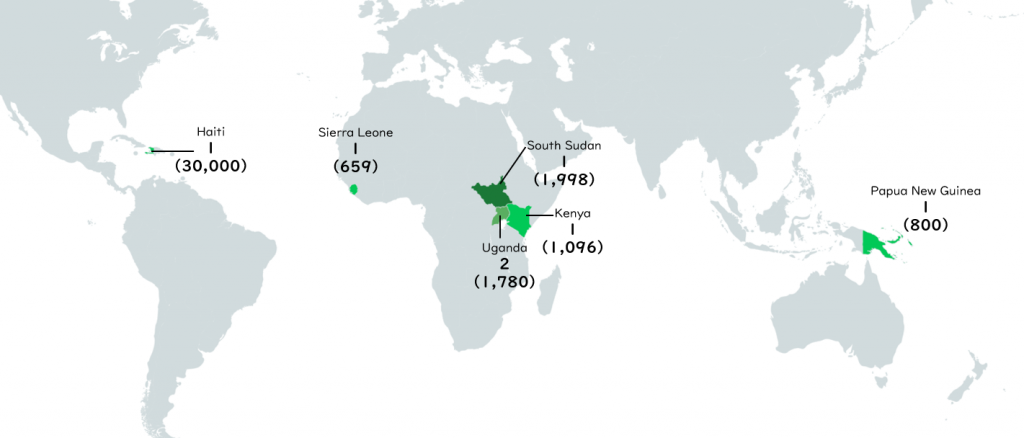 *Note: The number of supported project are shown boldface and the number of beneficiaries are shown in parentheses.
The number of supported project and beneficiaries of JWF Fund 2019
The JWF Fund was founded in 2005 and is operated solely by the Japan Water Forum (JWF), which aims to support selected grass-roots organizations in developing countries that have been addressing local water-related issues. Every year, the JWF publicly seeks out projects to support. Those adopted after due assessment are eligible for funding of up to 1,000 USD per project. The JWF Fund is based on JWF membership fees and donations from general contributors.
Under the JWF Fund 2019, seven projects in six countries were selected out of 302 projects submitted by 36 countries.
Applications for the JWF Fund 2019:
・Application Period: 3 June to 15 July 2019
・Number of Applications: 302 projects from 36 countries
・Selected projects: 7 projects from 6 countries; Papua New Guinea (1), Uganda (2), Kenya (1), South Sudan (1), Haiti (1), and Sierra Leone (1)
This page describes the project Improvement of water supply and sanitation through rehabilitation of a hand pump well (Sierra Leone).
Improvement of water supply and sanitation through rehabilitation of a hand pump well (Sierra Leone)
Outlines of the project:
・Organization:Rural Agency for Community Action Programme-Sierra Leone (RACAP-SL) (#227)
・Project title:Rehabilitation of a hand pump well in Baoma Village, Kpaka Chiefdom, Pujehun District, Southern Sierra Leone
・Country/Area: Sierra Leone / Baoma Village, Pujehun District, Southern Province
・Project period: October 2019 to March 2020
・Number of beneficiaries:659 (235 women, 107 men, 317 children)
・Cost: $1,454($1,000: JWF funds, $254:beneficiaries, $200:RACAP-SL)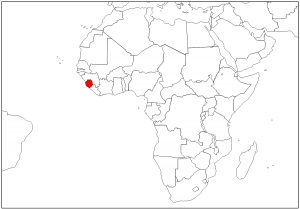 Sierra Leone
Background:
Baoma village, like many rural villages in Pujehun District, is faced with the challenge of a lack of clean drinking water. Essential government services are inadequate, or in some villages non-existent. In 2014, UNICEF through the RACAP/SL facilitated the construction of a hand pump to deal with the challenge, however this hand pump had broken down and was in urgent need of repairs. Also, at the peak of the dry season, the well would dry up completely. Thus, the residents of Baoma, including women and children, were relying on a running stream located approximately a mile away from the village as their main source of water for all purposes. This water source is unsafe and unprotected and exposed the villagers to many water-related problems.
The women and children were being exposed to diarrhea, dysentery and typhoid, which had been reported by the Pujehun District Health Management Team (DHMT) as highly prevalent in Baoma. The children were also affected by skin infections such as scabies when they were bathed in the water. Additionally, children walking to the stream to fetch water ran the risk of being bitten by snakes, as the foot path leading to the stream is often covered in brush.
Before the project:
Damaged hand pump well
to be rehabilitated
A nursing mother fetching water
from an unprotected source
Project Overview:
Concerted efforts were made by all parties concerned to implement the project. An inception meeting was held among community stakeholders, community members, and concerned Government ministries in Baoma village in October 2019. At the meeting, facilitated by RACAP staff, the objectives of the project were explained in detail.
All locally-sourced materials, such as sand and stone were transported to the rehabilitation site by members of the community, while materials coming from outside the community were procured and transported to Baoma by RACAP staff and volunteers. All the materials were of a good standard and met with the approval of all parties involved in the project. The rehabilitation and maintenance of the well, and construction of a fence around the well was carried out by hired technicians from the Ministry of Water Directorate.
The Water Management Committee was restructured by RACAP staff into a WASH Management Committee. The committee members were trained by staff of the district water directorate ministry in hygiene and sanitation promotion, including maintenance of the hand pump. The committee members, including some who have benefited from this training, are now knowledgeable in managing their water point facilities at all levels. Community awareness-raising on WASH was conducted by the RACAP team in collaboration with DHMT, and the water quality was tested by the district water directorate.
During the project:
| | |
| --- | --- |
| | |
| Pump technicians and RACAP volunteers repairing/rehabilitating the Baoma Village hand pump | Training of the WASH management committee in water, sanitation and hygiene |
Main activities:
・Project Inception Meeting
・Restructuring and training of WASH management committee
・Rehabilitation of one hand pump
・Water quality test
・Monthly Community Awareness Creation Sessions
・Regular project monitoring
・Establishment of community WASH funding and local by-laws
After the project:
Complete rehabilitated well
for Baoma Community
Meeting on the importance of safe drinking water by the Water Directorate
Voices from the beneficiaries: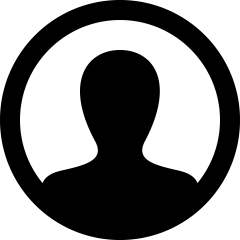 Mrs. Fatmata Kpaka (43 years old)
She had 4 children and strongly expressed the happiness of the community at getting clean and safe drinking water. According to her, skin infections and other related water bone diseases will now cease to trouble her children and the Baoma community as a whole.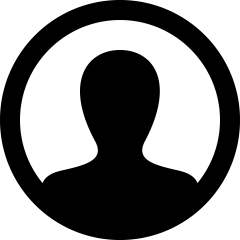 Mr. Dauda Rogers(chief of Baoma Village, 52 years old)
He congratulated the RACAP and government ministries which played key roles in helping his community in its years-long struggle to access clean and safe drinking water. He also extends his thanks and appreciation to Japan Water Forum donors that sent money in order to provide relief to the village. He asked the entire Baoma community to offer special prayers, both Christian and Muslim, for the RACAP and JWF.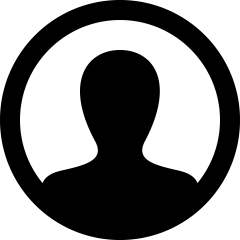 Miss. Hawa Massaquoi (17 years old)
She praised the good work done by Baoma village authorities and the RACAP, and all who had helped the community access safe drinking water. She proudly added that the training that members of the WASH management committee had received was good and timely and had increased their knowledge on how to manage their water point facility. They have also learned about hygiene and sanitation promotion at the household level, which will help drive away many illnesses, especially malaria, diarrhoea, and dysentery, from the community. However, she added a plea for the provision of 3-seater toilet facility for the community from the RACAP via the Japan Water Forum, as a way to complete the WASH system in Baoma Village.
(Reported by Shigenori Asai, Director)