JWF Fund 2019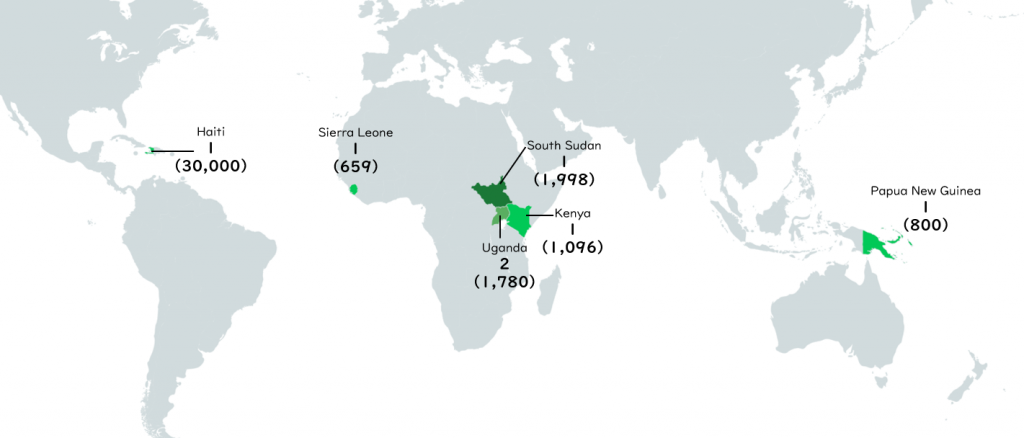 *Note: The number of supported project are shown boldface and the number of beneficiaries are shown in parentheses.
The number of supported project and beneficiaries of JWF Fund 2019
The JWF Fund was founded in 2005 and is operated solely by the Japan Water Forum (JWF), which aims to support selected grass-roots organizations in developing countries that have been addressing local water-related issues. Every year, the JWF publicly seeks out projects to support. Those adopted after due assessment are eligible for funding of up to 1,000 USD per project. The JWF Fund is based on JWF membership fees and donations from general contributors.
Under the JWF Fund 2019, seven projects in six countries were selected out of 302 projects submitted by 36 countries.
Applications for the JWF Fund 2019:
・Application Period: 3 June to 15 July 2019
・Number of Applications: 302 projects from 36 countries
・Selected projects: 7 projects from 6 countries; Papua New Guinea (1), Uganda (2), Kenya (1), South Sudan (1), Haiti (1), and Sierra Leone (1)
Outlines of the projects supported by the JWF Fund 2019
1.Provision of improved access to WASH services to mitigate GBV cases among school children and vulnerable host and returnee individuals in Belle Payam, Bungu County of Central Equatoria State in South Sudan (South Sudan)
Organization: Wealth Health and Education for Empowered Life (WHEEL) South Sudan
Country/Area: South Sudan/ Central Equatoria State
Number of beneficiaries: 1,998 people
Main activities:
・Repairing one borehole
・Setting up and training a village water user management committee
・Training a hand pump technician
・Project Evaluation
Borehole before rehabilitation
Project inception meeting
with community leaders
Water User Committee member
after two-day training

School children access safe
and clean water after rehabilitation
2.Rehabilitation of a hand pump well in Baoma Village, Kpaka Chiefdom, Pujehun District, Southern Sierra Leone (Sierra Leone)
Organization: Rural Agency for Community Action Programme (RACAP/SL)
Country/Area: Sierra Leone/ Southern Province
Number of beneficiaries: 659 people
Main activities:
・Rehabilitating one hand pump
・Restructuring and training water management committee
・Water quality testing
・Community Awareness Sessions
A nursing mother fetching water
from an unprotected source
(before project)
Training of the established WASH management committee on water, sanitation and hygiene
| | |
| --- | --- |
| | |
| Meeting on the importance of safe drinking water by The Water Directorate and District Health Management team | Rehabilitated well |
3.Reconstruction of Kyageefa Water spring in Kikaada village (Uganda)
Organization: Rural Aid Foundation (RAFO)
Country/Area: Uganda/ Kibaale district
Number of beneficiaries: 1,500 children
Main activities:
・Establishing and trained water management committee
・Reconstructed Kyageefa water spring
・Held water treatment and boiling demonstrations
・Produced one radio show to inform the community
Pond used for drinking water and
distillation center (before project)

Inception meeting with RAFO staff and water management committee
| | |
| --- | --- |
| | |
| People fetching water from the new spring | Children of Kikaada primary school attending a water boiling and treatment demonstration at the spring |
4.Construction and protection of Kogoma spring (Kenya)
Organization: Eco-Friendly Self Help Project
Country/Area: Kenya/ Siaya county
Number of beneficiaries: 986 people
Main activities:
・Constructing and fencing of Kogoma spring
・Four Meetings to create awareness
・Water quality testing
| | |
| --- | --- |
| | |
| Kogoma Spring before construction | Awareness meeting at the spring site |
| | |
| --- | --- |
| | |
| People at constructed Kogoma spring | Woman fetching water from Kogoma spring |
5.Improving and sustaining village water supply in Lababia (Papua New Guinea)
Organization: Morobe Development Foundation Inc. (MDF)
Country/Area: Papua New Guinea/ Morobe Province
Number of beneficiaries: 800 people (300 students and 500 adults)
Main activities:
・Awareness and education activities
・Training in WASH (Water, Sanitation and Hygiene)
・Water quality testing
・Training in installation, monitoring and preventive maintenance of water hand pumps
・Setting up community-led monitoring
・Project evaluation
| | |
| --- | --- |
| | |
| Pump installation | Plumber trying out the hand pump after completion of the project |
6.HAS Water System Renewal – Community Fountains (Haiti)
Organization: Hôpital Albert Schweitzer Haitia
Country/Area: Haiti/ Artibonite region
Number of beneficiaries: 30,000 people
Main activities:
・Rehabilitating four existing community fountains and building two new fountains
Old fountain at Corridor Market
(before project)
Rehabilitated fountain at Corridor Market
| | |
| --- | --- |
| | |
| People using clean water from rehabilitated fountain | Children filling containers at new community fountain |
7.Appropriate rural water and hygiene infrastructures(Uganda)
The project completion report was not submitted by Agoro Community Development Association.
Organization: Agoro Community Development Association(ACDA)
Country/Area: Uganda/ Lamwo District
Number of beneficiaries:280 people (planned)
RWHT with missing gutter, tape and
drainage canal (before project)
Non-functioning school borehole
(before project)
(Reported by Shigenori Asai, Director)