Overview
AQUA PROGRAM is a joint project with a jewelry brand "4℃" and Japan Water Forum.
It aims to bring "beauty" and "inspire" the women of developing countries who face serious water and hygiene problems by supporting water issues.
Since it's establishment in 2008, projects has been carried out in the Republic of Kiribati, Sri Lanka and Bangladesh.
▼4℃ official website "Responsibility to Society"▼
https://www.fdcp.co.jp/4c-jewelry/4c_aquaprogram/
The details of the AQUA PROGRAM 2018 are described below.
Details of the AQUA PROGRAM 2018
1) Project Title
AQUA PROGRAM 2018
2) Project site
Morrelganj Upazila, Khulna Division, Bagerhat District, Bangladesh
| | |
| --- | --- |
| | |
| Bangladesh | Khulna Division |
3) Beneficiaries
40 households, 194 people
4) Project period
October 2018 to June 2019
5) Local partner
People for Rainwater Bangladesh
6) Problems
Project sites are typical underprivileged and marginalize villages.  People living in these village depend on unsafe wells and ponds as water resources for domestic use as well as for drinking water. Although they have small incomes, households must spend cash on medical supplies and attention for water-borne diseases such as diarrhea and for purchasing water from suppliers in order to meet their needs in the dry season. Fetching water is daily burden for women and the cost of buying water is stressing household economy.
7) Outputs
・Baseline survey
・Workshops and meetings with  stakeholders
・Installing rainwater-harvesting tanks (2 tanks in each) and pipes in 40 households
・Workshops on usage of rainwater and WASH
・Training on operation and maintenance
・Follow-up visit to each household
・Water quality tests
8) Potential Impacts
・Women are released from daily burdens of fetching water.
・The cost for purchasing water and medical cost for water-borne disease can be reduced.
・40 households safe able to access safe drinking water throughout the year.
Voice from a beneficiary
We didn't have good water sources near our house. During the rainy season, we gathered and stored rainwater in small pitchers and buckets for drinking. In the dry season, we used to drink water from a pond which is more than one km away from our house. Due to drinking water from the pond, we often suffered from diarrhea and other waterborne diseases.
When my younger son got terrible diarrhea, a doctor told me that my son's diarrhea was caused by drinking raw water. He advised me to boil water for drinking and do not drink pond water which has not go through a Pond Sand Filter. However, it was not easy for us to do so.
After my son's illness of diarrhea, I had been thinking about a rainwater-harvesting tank. I always wished I had had a tank big enough to drink water during the dry season. After long waiting, the time has come at last. We are now happy that we can get drinking water from the installed rainwater-harvesting tank.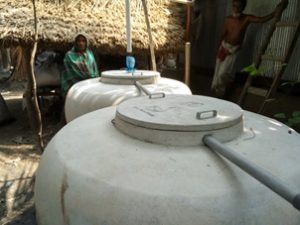 Beneficiary with the installed rainwater harvesting tanks.
During the project
| | |
| --- | --- |
| | |
| Baseline survey | Making a social map of the project site |
| | |
| --- | --- |
| | |
| Workshop at the upazila level | Workshop at the union level |
Transportation of the constructed
rainwater harvesting tank

Follow-up

 

visit

 to each household
(Reported by Sae Ishihara, Chief Manager)