The Asia-Pacific Water Forum ("APWF", Secretariat: Japan Water Forum) and the City of Kumamoto held the 1st Joint Steering Committee of the 4th Asia-Pacific Water Summit ("4th APWS") on Thursday, 18 April 2019 (Chair: Kotaro Takemura, Chair of Japan Water Forum ("JWF"); Vice-Chair: Kazufumi Onishi, Mayor of Kumamoto City) aiming for  smooth operation of the 4th APWS.
In this three-hour committee meeting, staff members of JWF, which is the secretariat of APWF, and the City of Kumamoto discussed agendas including the bylaws, accounting procedures of the committee, the programme concept of the 4th APWS as well as a framework of the session topics. The committee meeting was successfully closed after confirming the schedule for preparation.
The APWF Secretariat JWF and the City of Kumamoto will hold the committee quarterly to drive forward the preparation of the 4th APWS, while sharing information among stakeholders.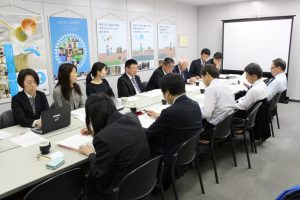 The 1st Joint Steering Committee
(Reported by Natsuko Uemura, Manager)